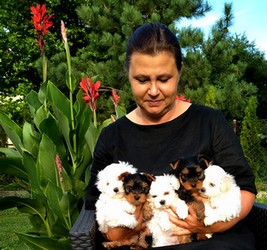 YOU ARE WELCOME ON MY WEBSITE.

My name is Magdalena Cywicka and I am a breeder of YORKSHIRE TERRIER and MALTESE dogs.
The kennel exists since 2004.
Our dogs are leaving with us at home. They have big garden to play and we treat them as a family.

Yorkshire erriers are faithful ambitious, and brave dog with great heart.
They are also proud, friendly and full of life. York is rather small dog but it is one of the most popular in the world.

Malteses are very friendly, cheerful and sociable.
Despite its small size, the Maltese has a great personality and is very fond of any activity. Malteses are so smart and they are learn quickly.

The puppies who leaving abroad are vaccinated, receive an international pedigree, chip, passport and all extra documents needed for the country.
Our puppies are only handed over into good, responsible hands.

You are welcome to visit my website, and best regards to everybody who love dogs, specialy YORKSHIRE TERRIER & MALTESE.